Ashridge – Railings
History of the fence panels
John William Egerton, the 7th Earl of Bridgewater inherited the Ashridge estate in 1803 and embarked on a massive rebuilding campaign. The existing house was built between 1808 and 1813 to the designs of James Wyatt. Further works to the house were carried out after Wyatt's death by his son Benjamin, and later by his nephew Jeffry Wyatville. The north porch was designed by Wyatville. He may have designed the low walls which screen the basement areas on either side of the porch.  An engraving dated 1829 and an undated photograph record this original element. In 1851 the estate was inherited by the 2nd Earl Brownlow when he was a minor. His mother Marian Alford supervised extensive works to modernise the house and the estate during the second half of the century.  At some date c.1888 the original low wall was demolished, and replaced by the existing fence panels.  There is no documentation relating to the fence panels and their decoration.  
Marian Alford favoured the Italianate fashions of the latter half of the nineteenth-century. She transformed several of the interiors at Ashridge in an ornate classical style.
Sources: Mick Thompson – Ashridge Estate Manger & Archivist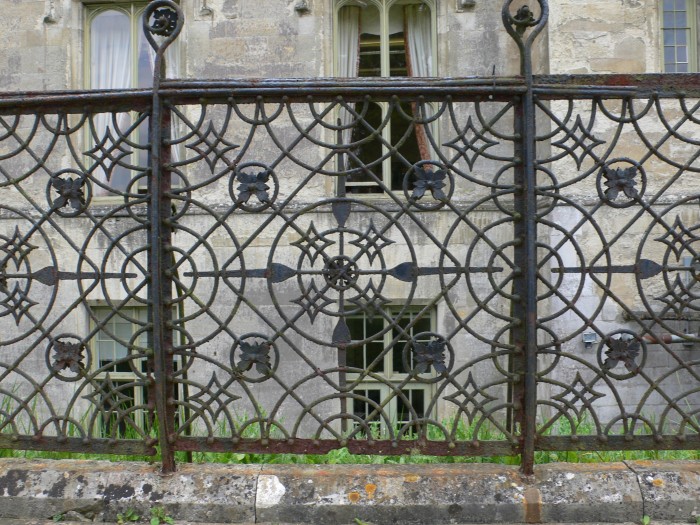 Discussion Panel 11/Sample 24  – Bottom Diamond
 Examination of the paint fragments taken from the 33 selected locations indicates that the panels on the eastern range are less corroded than those on the west, and retain traces of the first three decorative schemes. However these fragments of early schemes are sparse as there has clearly been several successive attempts to strip the paint from the iron-work.   Historic paint has been retained in very few areas.   It is not possible to establish the exact appearance of the  first five decorative schemes which seem to have elaborated with picked out detailing. The comments on the appearance of each scheme is based a very limited amount of archaeological evidence.  Only 5 of the 33 sample locations retained traces of the earliest schemes.  Almost all of the paint stratigraphies from these locations has been disrupted by either partial stripping, engulfed by the flow of repeated varnish layers, and more modern paint systems. The following observations are based on a correlation of the evidence provided by all of the samples removed from the fence panels.
Original Decoration
 The paint samples removed from 'diamond' motif area provides the best evidence to support a theory that that the fence panels were originally primer in a red-lead primer before being painted in an off-white oilpaint.   Sections of the panelling were decorated in gold leaf applied over gold size. The fence panels replaced a light coloured stone wall which was made of the same stone as the building, and so the light coloured fence panels would have been in keeping with the original design.  Stone coloured railings were common in the early nineteenth-century.  Examples of stone coloured railings have been found at St. Luke's Old Street London and the Sir John Soane Monument, Old St Pancras Church.