Kenwood Brew House and Old Kitchen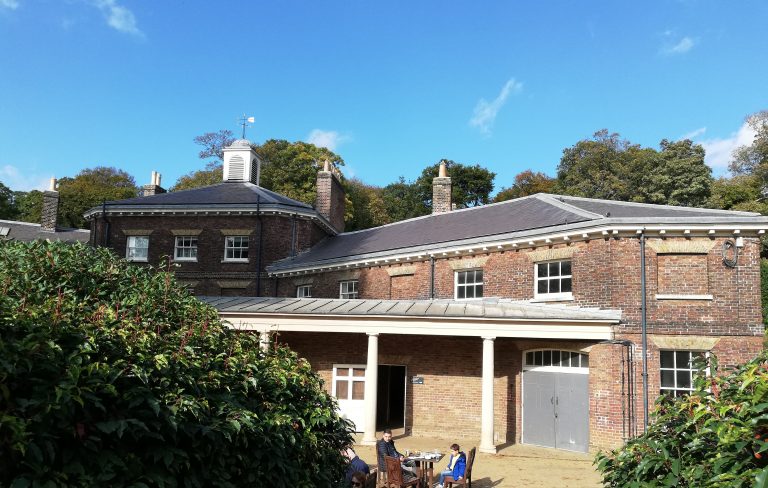 Architectural Paint Research
History of Kenwood Service Wing
The Service Wing was designed by George Saunders and was completed in 1796. The size of the building is large considering the relatively modest scale of Kenwood House but reflects the grandiose level of the entertaining envisaged by the Second Earl of Mansfield at that time. A plan of 1815 shows the original layout of the complex. Further alterations were carried out when Kenwood House was sold by the Mansfield family and opened to the public in the late 1920s – the former Laundry and Brewhouse were converted into tearooms. After WWII further alterations were made which included the installation of public toilets on the south side of the Old Kitchen.
The Old Kitchen (G13)
The Old Kitchen originally rose to the full height to the roof, but an additional floor was added after 1815 for servants' bedrooms. Despite this alteration the room is still an impressive space. The existing range and ovens on the north wall are not original, and probably date from the 19th century. The central doorway on the south wall was created in the 1950s. At this time the long dresser was switched with the two short dressers located on the west wall. The west door which led to the Scullery and Larders was blocked.
On-site Observations
The ceiling is currently painted White with the walls painted in an Off-White Emulsion. The joinery and skirting and shelving are decorated in a Light Beige. The fire surround and various kitchen appliances are picked out in Black.
Examination of Paint Samples
During the late 18th, 19th and early 20th when the kitchen was functioning the walls were repeatedly decorated in White Limewash. At a later date probably in the early 20th century the walls were painted in a Cream oil paint. Since the 1950s the walls were repeatedly decorated in modern White and Light Cream coloured emulsion paints.