The Spanish Gallery – Market Place
Auckland Castle Trust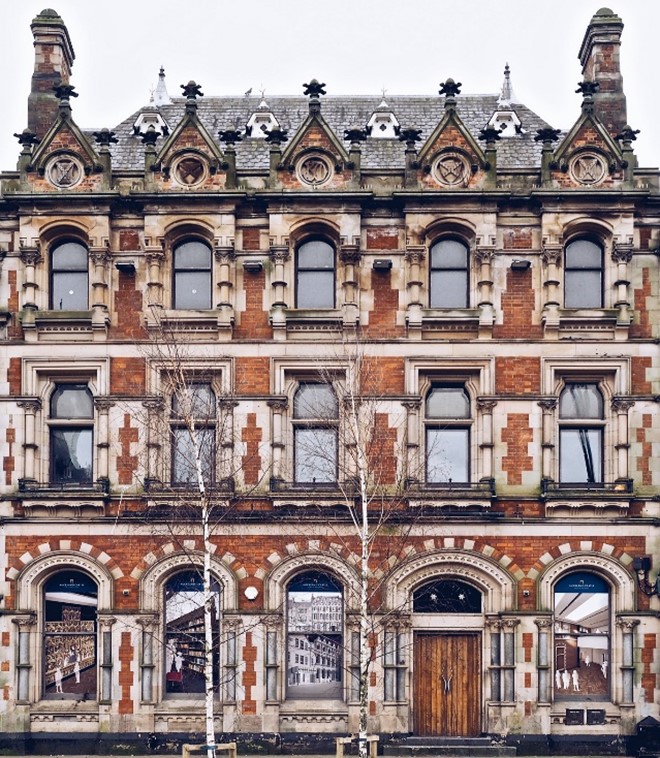 Background & Brief
Auckland Castle has been home to Francisco de Zurbarán's series of Spanish masterpieces Jacob and His Twelve Sons for over 250 years. These striking paintings are the starting point for a new gallery dedicated to Spanish art, which will open in Bishop Auckland Market Place in the former Barclay Bank. It will display artworks from the medieval period onwards, with particular emphasis on the 16th and 17th century Spanish Golden Age.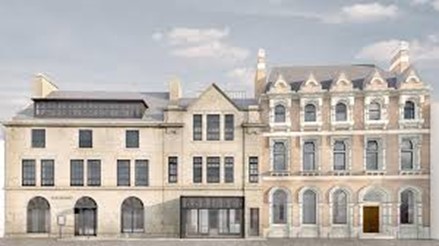 The History of the Bank
The building is listed Grade II. It was designed in 1870 by the famous local architect George Gordon Hoskins of Darlington (1864-1907) as a new branch of the Backhouse Bank. It is typical of the period when a number of major bank buildings were designed in the then fashionable Gothic Revival style. The architect is known for his 'Hoskinian Gothic'. The decoration of the exteriors is both colourful and ornamental – details projecting forward of the walls in places. Within the building some of the interior details have been removed. The bank opened in March 1871. In 1896 Backhouse Bank merged with other Quaker banks to form Barclays. The Bishop Auckland branch closed in 1999. The building was then used a public house but closed about ten years ago. The building has been unoccupied since then.
The Main Banking Hall is entered via an entrance screen of composed of three ornate gothic arches. All of the original banking fittings and fixtures have been removed. The ceiling and cornice are original. The flat ceiling bed is covered in heavily moulded decorative plaster – a continuous repeating pattern of flowers in linked circles. The room is fitted with a deep plaster cornice. No trace of the original wall plaster survives.  The existing ceiling and cornice decoration, a Dark Red with White mouldings  was probably applied after 1999 when the building was used as a pub.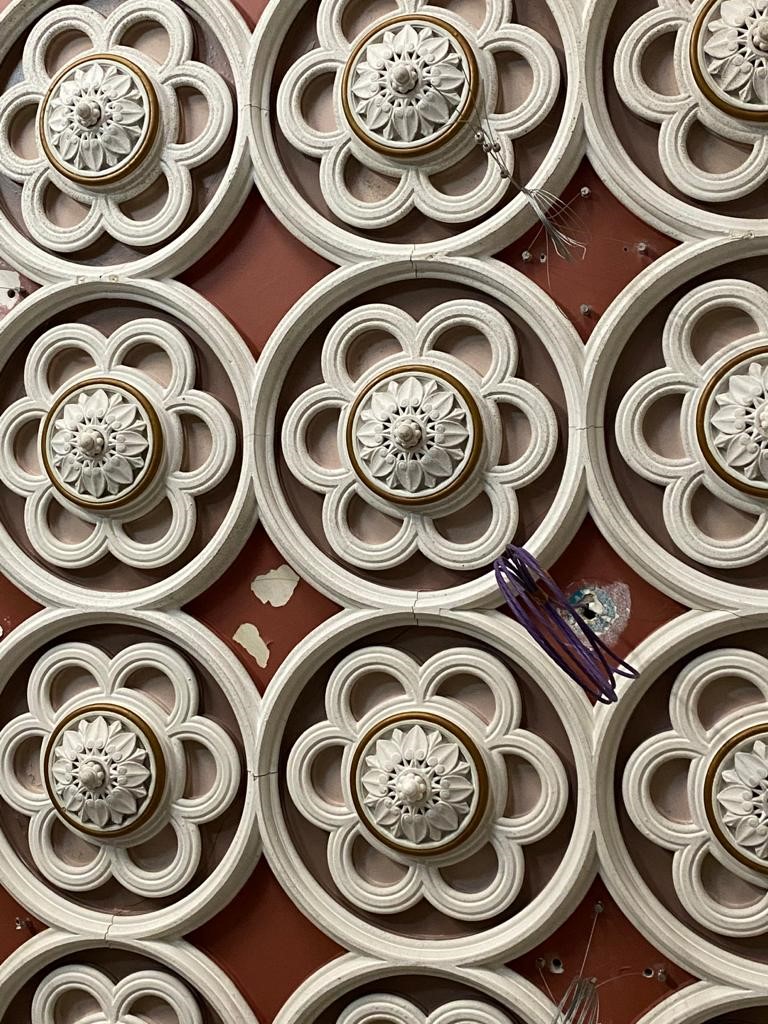 Conclusions
Analysis of paint samples removed from the ceiling bed and mouldings suggests that c.1871 the ceiling and cornice were uniformly painted in a Cream/Light Stone coloured paint. This decoration was perhaps intended to suggest that the ornately moulded ceiling was made of an expensive carved stone.
The decorative scheme was repeated with slight variations in colour from Off-White to Light Stone and some use of Distemper decorations (probably an economy measure as distemper is a cheap paint finish).
After WWII when modern acrylic and alkyd resins were readily available the ceiling continued to be uniformly painted in modern Off-White decorations.
When the bank closed, and the building reopened as a public house the bank partitions were removed and the room was redecorated in the current scheme – Dark Red with White mouldings with some picking on the ceiling in Dark and Light Brown and Gold paint.