Redhills – Durham Miners' Association (DMA)
Durham City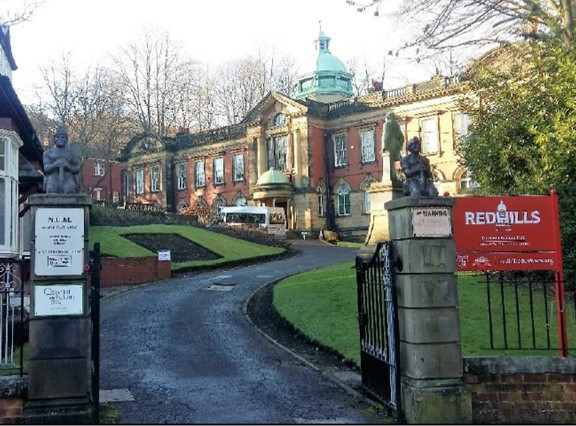 History & Brief
The offices of the Durham Miners' Assocation (DMA) at Redhills opened on the 23rd October 1915. Built to the designs of the architect H.T. Graton, it was funded by local miners who specified that they required 'a building and interiors of sufficient grandeur and quailty that they could deal with wealthy coal owners such as Lord Londonderry on equal terms'. The building is now known as the 'Pitmans' Parliament' and is regarded as most outstanding example of trades union inspired architecure in the country. 
Built in the Edwardian Baroque style, the exterior is finished in bright red brick with stone ashlar plinth, quoins and dressings. The public spaces and functions rooms are fitted with the highest quality oak, marble, ironwork, fibrous plaster mouldings and bespoke furniture. The quality and high architectural ambition of the building was recognised in 1988 when it was listed Grade II.
Although the mines in the area have closed Redhills continues as a focal point for mining communities across the county, housing the collections and archives of the association and continuing the activities as a trades union service for former miners and their families. It supports the activities and traditions of the mining community such as the Annual Miners Gala, and fosters the growing interest in miners' banners and paintings.
A series of conservation heritage and structural reports have been commissioned to further the understanding of the building and support an application to the Heritage Lottery to fund its future conservation and development. The investigation of the decorative finishes applied to Redhills outlined in this report aims to expand the understanding of the decorative history of the building and its site.
(Information taken from 'Heritage Statements – Durham Miners' Association' by Archaeo-Environment Ltd, March 2019 & 'Building Survey Report – Durham Miners Association' RNJ Partnership January 2018)
An Architecural Paint Research (APR) investigation of the decorative finishes applied to the exterior and principle interiors was commissioned to establish the original decoration and later decorative history.