Sir John Moore School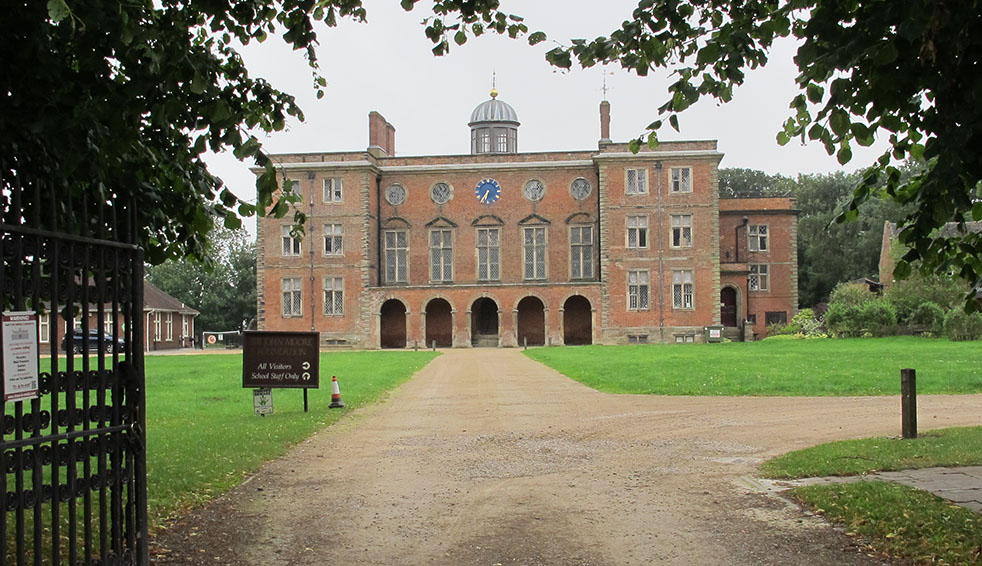 History & Brief
Sir John Moore School in Appleby Magna is a Grade I listed building built between 1693 and 1697. Since its completion it has been in almost constant use as a school for local children. It was funded by Sir John Moore, a local man who rose to be a successful businessman who held many important positions in the City of London, eventually becoming Lord Mayor. His statue holds pride of place on the east wall of the central hall. A design for the building was drawn up by Sir Christopher Wren, but the design was significantly modified by the architect Sir William Wilson who built the school.
Conclusions
Original Decoration – 1697
Examination of the paint samples reveals that the Hall was originally very plainly painted.
The ceiling and walls were painted in a simple White Lime-wash. This paint was also applied to the windows (stone mouldings, lower sloping stone reveals & plaster on side splays), and the stone architraves. The oak doors were painted in a Dark Brown oil paint.
The only elaboration was the decoration of the free-standing statue of Sir George Moore and the alcove. The carved sandstone was originally painted in a Light Grey oil paint – probably intended to suggest the statue and the classical surround was made of marble.
The base on which the statue stands (and possibly the background of the niche behind the statue) was painted in a Golden/Brown coloured distemper paint. This colour would make the statue grey statue stand out in dramatic contrast.
Later Decorations
During the early 18th century the walls and other element continued to be decorated in White Lime-wash. At a later date, a dull Green Lime-wash was applied to all the walls and window reveals.
A significant change in the decoration of the walls occurred, possibly during the late 18th/early 19th century, when the walls and statue alcove (pilasters, plaque border, background of alcove) was painted in a Light Stone oil paint. This decoration was repeated using varying darker shades of Light Stone/Light Pink coloured oil paint.
The statue however continued to be painted in Light Grey and White oil paint
1882 Scheme
The joinery added to the room in 1882 (the screen, gallery and internal porch) is made of softwood Dark tinted varnish. This finish was intended obviously to match the original 18th desks fitted to the wall to form a dado. This dark varnish finish was retained on some elements, probably until after WWII. Some of the elements were picked out in mid-blue and green oil paint during the pre-WWII. Post WWII the gallery and porch was then painted in light shades of modern paint (cream, pink and beige).