44 Berkeley Square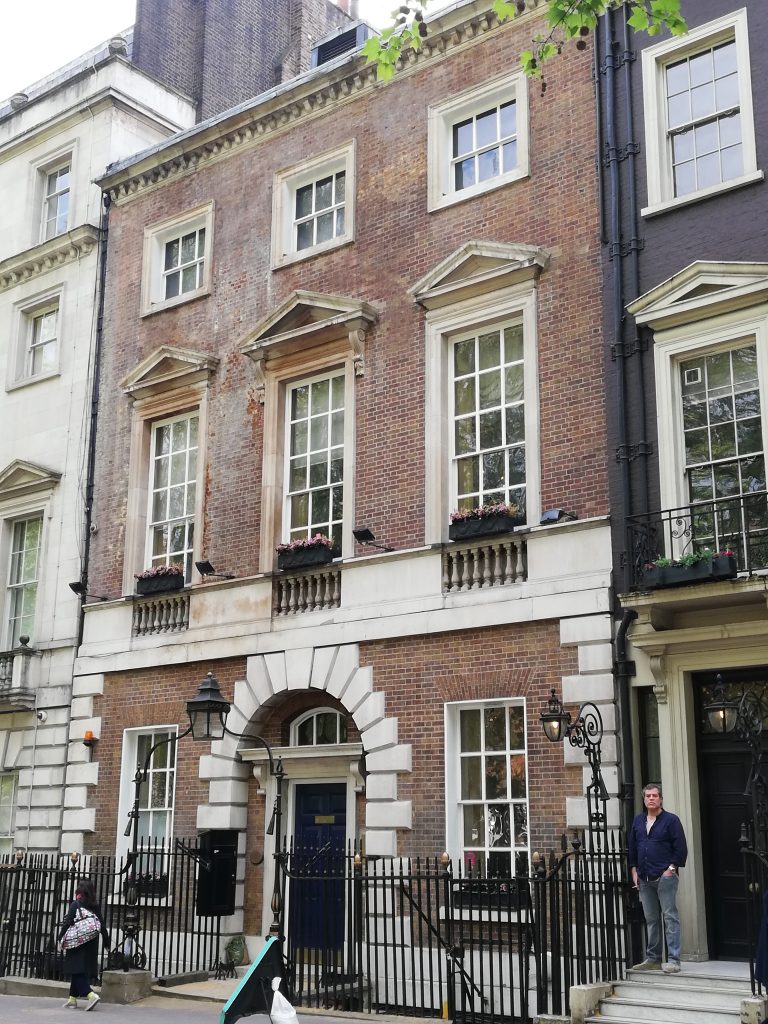 Background & Brief
No.44 Berkeley Square was built between 1742–1745 by the architect William Kent 1685-1748) for Lady Isabella Finch (1700-1771). William Kent has just completed his work at Holkham Hall. The house has been hailed as one of the finest terraced houses in London, renowned for the ingenious manipulation of constrained space in its Grand Staircase.  Lady Finch, was one of the great society hostesses of her time, used the house to enhance her power and influence. The house remained in residential use until the 1962 when it was occupied by the Clermont Club. Architectural Paint Research (APR) was commissioned to establish the original decoration of the principle rooms on the ground and first floor rooms, and comment on the significance of the existing decorations – and suggest options of the redecoration of these rooms.
Abstract
The original decoration has been established in the following areas.:
Entrance Hall
Ante Room (Little Parlour)
Club Room (Dining Room)
Grand Staircase
Great Saloon
The Holland Room (Bedroom)
The Little Holland Room (Dressing Room)
It was evident that William Kent had devised a sequence of interiors leading from the plain Entrance Hall (Painted in a common Stone Coloured oil paint, with softwood doors painted in a Chocolate Brown, fitted with a stone chimney, skirting and flooring) to the opulent climax of Great Saloon with it stunning coved ceiling inset with canvas paintings, hangings, and mahogany doors, windows and skirtings.. It is evident that Kent was using the same tonal balance in the rooms at 44 Berkeley Square as he employed At Holkham Hall and 22 Arlington Street.
Recommendations
Architectural Paint Research has established the appearance of the William Kent scheme. It should be noted that the future use of the interiors may call for different decorative treatments.
The plain decoration of the Entrance Hall devised in 1745 may not be appropriate for the Entrance Hall of a Casino In 2019. The Chocolate Brown Skirtings which were a common feature of eighteenth century has gone out of fashion by the early nineteenth century and may not be appropriate for contemporary tastes.
Elements of the scheme may be used to inspire and inform the modern representation of selected interiors.