Royal Opera Arcade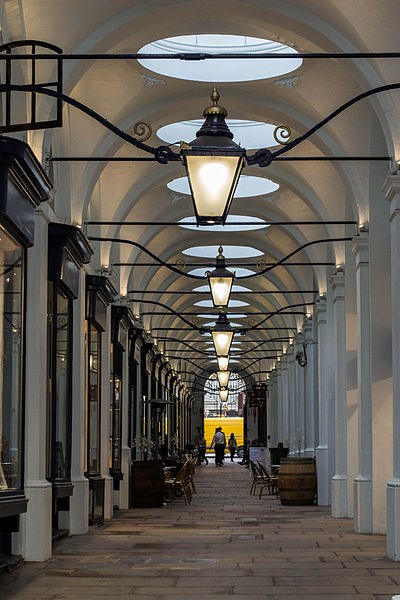 History & Description
The Royal Opera Arcade, designed by John Nash and completed in 1818, is Britain's earliest covered shopping arcade. It is listed Grade I. It is twelve feet wide and runs parallel to the Haymarket between Pall Mall and Charles II Street. On its west side are eighteen (originally nineteen) small shops, each with a basement and a mezzanine room. The arcade is composed of eighteen groin vaulted bays each lit by a circular skylight, the bays being separated by plain arch-soffits rising from plain-shafted Doric pilasters. Each shop has an ornate door and shopfront. The walls, ceiling surfaces, and the architectural ornaments are finished in stucco, now uniformly painted, but thought to have been originally painted/frescoed to represent Bath stone. The Arcade has survived a fire in 1867.
Project Brief
The Royal Opera Arcade is about to undergo redevelopment. Historic England have requested a paint analysis of the external elevations and the arcade shop-fronts/vaults/elevations/ironwork. The shop interiors are not part of this current investigation.
The objectives of the paint analysis are to:
• determine the original colours applied to the two external elevations, the rendered arcade, the joinery of the shopfronts, and painted metal lamps (and supports) to inform the discussion of conservation/redecoration options.
• clarify the structural development of the east elevation of the arcade which was never fitted with shops and has seen a huge amount of change in development over the past 200 years. Paint analysis may possibly clarify the age of the remaining fabric in this area and again inform the discussion of conservation/redecoration options.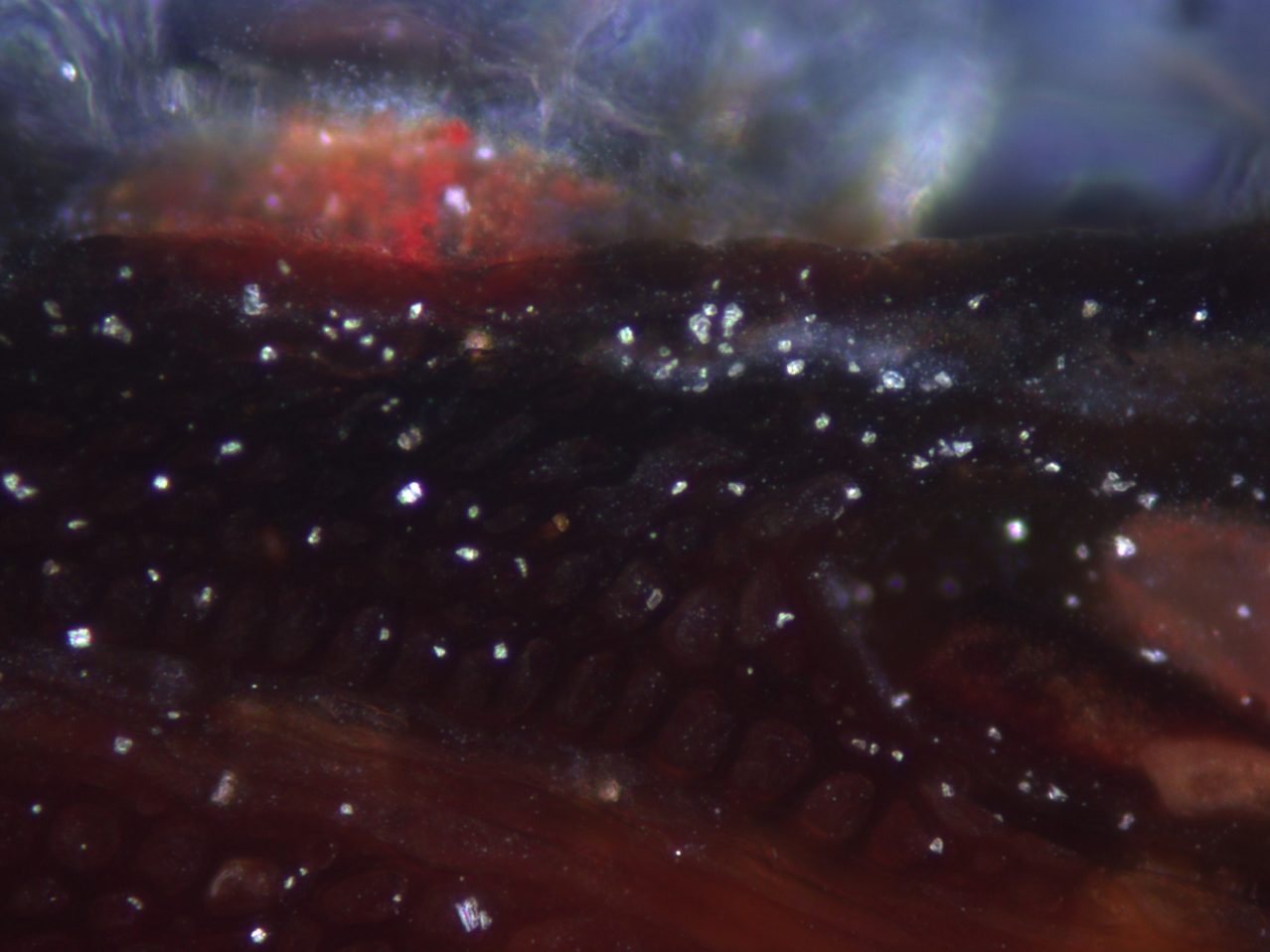 Conclusions
The on-site observations and the examination of the mounted samples suggested that the original decoration of the arcade was very plain, most of the elements being painted in a Light Stone coloured paint intended to imitate stone. This effect being enhanced by the incision of the faces of the vault and the wall faces to suggest blocks of stone (ashlar) and the addition of a small amount of sand to the original paint finish.
The shop windows were made of a hard wood and the lower fascia were most likely painted Brown or Grained to match the hardwood.
The lanterns are made of copper and the copper finish was originally exposed until being overpainted in a Dark Green lead-based oil paint.
Original Decoration c.1818
Vault & Wall Plaster (incised to imitate stone) LIGHT STONE (SANDED)
Composition Mouldings (brown) LIGHT STONE
Plaster Decorative mouldings LIGHT STONE
Metal Oculus & Lantern Supports LIGHT STONE
Upper Window & Shop Facias Softwood LIGHT STONE
Shop Window Hardwood HARDWOOD (REPEATEDLY VARNISHED)
Lanterns Copper COPPER (EXPOSED UNTIL MID/LATE 19TH CENTURY)
Later Decorations
The later decorations are plotted on a Phase/Decorations Chart Two.